IMSI catchers Criminals law enforcement using high-tech
Nowadays it is even possible to build an IMSI catcher using commodity hardware and open source software [25]. In most of the countries legislation mandates telecommunication operators... Yes, Wi-Fi network can capture IMSI numbers from nearby smartphones, allowing almost anyone to track and monitor people wirelessly. IMSI or international mobile subscriber identity is a unique 15-digit number used for authentication of a person when moving network to network.
IMSI CATCHER / STINGRAY CREATION Hackaday.io
19/04/2011 · IMSI/IMEI gathering system 8 KNOTS You Need to Know - How to tie knots that you will actually use. - Duration: 15:14.... Implement automatic build and version updates when using Travis-CI and Gradle, to build our App. The build.gradle script to do this, is described HERE, and lastest version can be found HERE.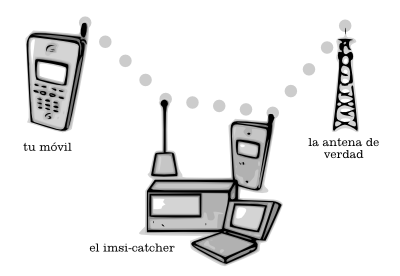 Low-cost IMSI catcher for 4G/LTE networks tracks phones
IMSI catchers steal information from GSM networks but cannot steal information from other types of connections. In the United States, T-Mobile and AT&T use a GSM network. Sprint and Verizon use CDMA. In the United States, T-Mobile and AT&T use a GSM network. how to buy code signing certificate IMSI CATCHER / STINGRAY CREATION. I want to build a cheap IMSI catcher/StingRay using a raspberry pi, or using other products. Also need coders to help code for the product.
How to Disable IMSI Catcher Techwalla.com
The hardware, known as an IMSI catcher, tricks mobile phone handsets across an area of several miles into connecting to them by impersonating cellphone towers, and can be used to pinpoint phone how to build a custom wordpress theme to much larger audiences. Chris Paget built an IMSI Catcher for about US$1,500 [10] and presented it at DEFCON 2010. His setup consists of a Software De ned Radio [13] and free open source software
How long can it take?
For Just $20 Black Hat Hackers Can Build an IMSI-Catcher
imsi-catcher – Linux hacking
LTE$and$IMSIcatcher$myths$ Black Hat Briefings
Fake Cell Towers r/Stingray - reddit
Here's How Easy It Is to Make Your Own IMSI-Catcher
How To Build An Imsi Catcher
IMSI catchers can collect all the IMSI and IMEIs emitted by phones in a certain area - which can be up to around 10 sq kilometers - to build a database of phones in that location. They can also emulate a mobile phone tower, making phones in that area connect to it.
I wouldn't even think about doing this unless you are in a faraday cage environment or other locked down RF environment where you can be absolutely sure you have complete control over all RF emitted by the device and you know exactly which devices are able to connect.
19/04/2011 · IMSI/IMEI gathering system 8 KNOTS You Need to Know - How to tie knots that you will actually use. - Duration: 15:14.
go into the IMSI-catcher directory and run 'sudo python simple_IMSI-catcher.py' to extract the IMSI numbers. To make it even easier in the future to get this sniffer up and running, I decided to package the gr-gsm project for Debian ( WNPP #871055 ), and the package was uploaded into the NEW queue today.
The idea was to use the IMSI catcher to find and stop prisoners making illegal calls using smuggled mobile phones from within the jail. Officially, the trial was declared a failure, having